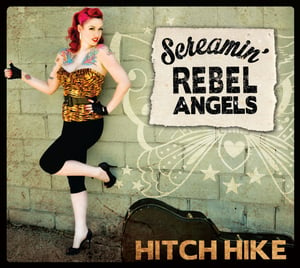 $

15.00
"HITCH HIKE" is the debut full-length album from Brooklyn based band Screamin' Rebel Angels, the female fronted combo whose raucous rock and roll revival captures the soul of rock, rockabilly, '50s rhythm and blues, country twang and even '60s Yé- Yé, with a raging sound all their own.
HITCH HIKE is that rare album that harnesses a band's live intensity, and in the case of Screamin' Rebel Angels, this means an all-out soul-grabbing frenzy. From its opening rockabilly rager "Sizzle" to its no-holds-barred closer "Saved," this dance-inducing, gut twisting album offers twelve tracks of unbridled excitement that reveals the strong song-writing talents and musicianship that has turned into the unique sound and fury of Screamin' Rebel Angels.
Screamin' Rebel Angels consider HITCH HIKE their strongest work to date. While employing the framework of established genres, their songs express emotions and passions that are both eternal and surprisingly fresh. With the driving garage beat and soaring word play of "Savage Stomp," the contagious rhythms of "When I'm With You," and 60's styled dancer "MayDay", paired with the ethereal longings of title track "Hitch Hike" and "My Sweet Boy", to the smoky New Orleans-style dirge "I Don't Want To Fight," this album is the sound of rock 'n roll revival.
This album was recorded independently in 100% analog at NY H.E.D. (Lower East Side, NYC) with recording and mixing engineer Matt Verta-Ray (Heavy Trash, Speedball Baby), and was mastered by Ivan Julian (Richard Hell and the Voidoids, The Clash). Produced by Laura Rebel Angel and Matt Verta-Ray, with ten originals written by lead singer and rhythm guitarist Laura "Laura Rebel Angel" Billard and by lead guitarist Brian "Bobo" Hack, with Sean O'Connell on Drums and Simon Chardiet in the studio on Doghouse Bass.
HITCH HIKE is a rock and roll joyride into sin, speed and salvation--buckle up, baby!